Rumors have been furiously circulating about the design of the new 2015 Ford Mustang and if it even exists. Mustang lovers have every right to be curious about these rumors and to be frustrated at the lack of information available, but a breakthrough in the rumors has finally been achieved. Although Ford will not acknowledge to the public that the new 2015 Ford Mustang design even exists, a prototype of the vehicle has in fact been spotted and photographed by spy shooters. Every other mule that has been spotted to-date has simply been a slightly modified version of the current S197 vehicle.
Although Ford continues to keep its lips sealed about the new design, some juicy information has still managed to leak out to the public about this exciting new vehicle design, including some detailed bits of information about engine power, release date, and even the possibility of a new name.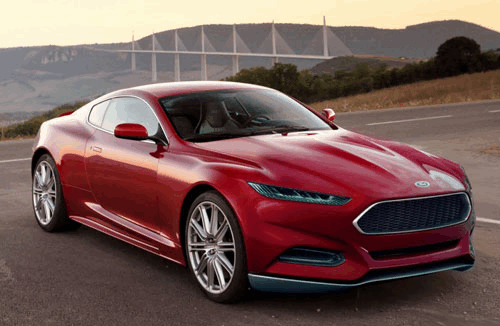 Vehicle Design
It has been rumored that the new 2015 Mustang will have an independent rear at last. That will force online reviewers to find something else to complain about with the 2015 model and will undoubtedly make many Mustang lovers very happy.
Engine
The base Ford Mustang model will be armed with a powerful V6 engine, while the next step up will be a four-cylinder EcoBoost 2.3-liter engine. It is anticipated that the four-cylinder engine will have approximately 350 horsepower, which is quite impressive and is sure to make Mustang lovers quake in anticipation. It is not yet known if Ford will refer to it as SVO for the sake of old times or if it will have another name.
The next model up (the GT) 2015 model will still have its 5.0L Coyote V8 engine, which will have approximately 450 horsepower. Once you handle a vehicle with that kind of power you will never want to go back to a less capable engine again. When it comes to Mustang engines, Ford knows how to deliver impressive power that makes other vehicles seem like wimpy, childish toys.
New Name
One of the most interesting rumors that is floating around in the Mustang community is that the new SVT Shelby may in fact drop the word "Shelby" out of its name. The highly-favored new name is likely to be "Cobra", which matches the more intimidating and serious look that the new Mustang will sport.
No More Supercharger?
Yet another rumor swirling around 2015 Mustangs is that the next generation of the SVT Mustang will go all motor and drop its supercharger in order to obtain maximum monstrous power (much like the Camaro Z/28). While these rumors may not be totally verifiable and will certainly not be admitted to by Ford, they come from a reliable source and you are highly likely to see some or all of these changes in the near future.
Release Date
Plans for the new and highly-anticipated 2015 Ford Mustang should be released before the end of this year (2013), at which time impatient vehicle lovers will finally see for themselves if the new design lives up to their expectations. Until then the anticipation and curiosity will almost certainly continue to increase to nearly unbearable levels.
The following two tabs change content below.
LN
Ellen is a blogger, a web content writer, a researcher, a stalker, an entrepreneur wanna-be, a resourceful moneymaker, a big fan of Supernatural TV shows, a household queen, and a mom of four.