Whether building a new home or renovating an older house, the interior design of the home is usually the element that speaks loudest. Your furniture, decor and colour choices should all work together to reflect the personality of those living inside, and make a comfortable and pleasant living space.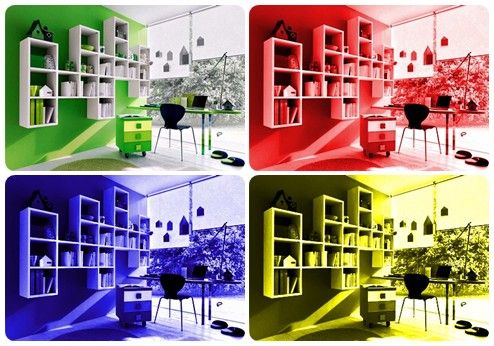 For some, the task of choosing the right colours can be overwhelming, with an infinite number of colours and shades to choose from presenting an infinite number of colour combinations. But there's no need to pull your hair out over a few hues – follow these hints and you'll be on your way to the perfect interior in no time.
Lighting Conditions
A colour can be perceived differently in different light, so consider what kind of lighting conditions will be present in each room. For a room with lots of windows, you can expect there to be a lot of natural light during the day, so when looking at colour swatches or paint samples, view them in sunlight. For an office or TV room, you'll want to minimise glare on your computer or TV screen so you can expect to have curtains often drawn and softer lighting inside, so view your colour options in a similar condition. Make sure you're happy with each colour in the light in which you'll mostly be experiencing it.
Surrounding Colours
A colour can also seem to change depending on what colours are surrounding it. When you're looking at colour samples, make sure you consider what colours they will actually be viewed against once your room is completely decorated. Look at how the colour appears against cornice, flooring, and the outside world if there's a view. You might even think about what colour your furniture and decor will be. Make sure you don't get caught up in looking at paint samples against the current wall colour or next to other samples of potential shades.
Colour to Convey Mood
Colour has a strong effect on how you can convey mood in a room. Keep colours light and vibrant in rooms where a lot of action and socialising takes place, while rooms used for relaxation and rest should be kept cooler and more subdued.
Light vs Dark
Keep in mind that darker colours can often create the illusion that a room is smaller than it is, as they seem to enclose the space by limiting reflected light. For a room that should feel spacious, keep away from dark tones and go for lighter shades to give a feeling of openness and space.
Consider Your Decor
Your paint will need to compliment any decor in the room in a way that achieves the overall visual effect that you're aiming for. If stark contrasts are your goal, then there's no harm in choosing bold colours, however you must be sure that these colours still work harmoniously – for example, fluorescent green paint with red couches is certainly bold, but will not be aesthetically pleasing. If complimentary tones and gentle contrasts are what you're after, then make sure you match the paint to your intended decor – consider flooring (carpets, rugs), furniture, artworks etc – especially if you are matching with items you already own, rather than buying specifically to match the new room.
Seek Inspiration
Trawl through blogs, magazines and photo databases (e.g. Pinterest) to get lots of inspiration and help develop a solid idea of how you want each room to look and what kind of theme and palette you're looking to achieve. Scrapbook all yours favourites together in one place, and use these images and ideas to better choose the right colours.
It may seem like a big task, but if you take it step by step there's no reason for choosing the right colours for your new home to be a daunting task. Simply go with what you love, do plenty of research, and always ask for help if you're unsure.
Lilly is an Interior Designer from Queensland, Australia. She says that getting the colours right in your home is the most important aspect of interior design. Some of Lilly's best work can be seen in the Maddison Estate display village on the Gold Coast.
The following two tabs change content below.
LN
Ellen is a blogger, a web content writer, a researcher, a stalker, an entrepreneur wanna-be, a resourceful moneymaker, a big fan of Supernatural TV shows, a household queen, and a mom of four.